Three University of North Carolina Gillings School of Global Public Health investigators have received funding from the North Carolina Translational and Clinical Sciences Institute (NC TraCS), an organization that aims to accelerate the speed with which research is disseminated to individuals and communities.
Gillings School awardees include Dr. Ian Carroll, assistant professor of nutrition; Dr. Jason Fine, professor of biostatistics, and Dr. Lindsey Smith Taillie, assistant professor of nutrition. Dr. Fine is also a professor of statistics and operations research in the UNC College of Arts and Sciences.
Dr. Carroll will work with Dr. Laurianne Van Landeghem, assistant professor in the College of Veterinary Medicine at North Carolina State University, on the project, "Severe Calorie Restriction-induced Intestinal Microbiota Dysbiosis impairs Intestinal Stem Cell-driven Epithelium Renewal and Regeneration."
Dr. Fine, in collaboration with Dr. Shivani Reddy, a research public health analyst at RTI International, received a grant for "Improving Cardiovascular Risk Prediction in Women."
Dr. Taillie will lead the project, "Feasibility of a New Food Store Model to Test the Impact of Obesity Prevention Policies Among Latino Mothers."
Each year, the Gillings School, through its Research Innovation and Global Solutions unit, provides a matching award for up to $25,000 to faculty members who receive NC TraCS grants. This year, the additional funding was awarded to Dr. Taillie.
"We are pleased to invest matching funds that support our researchers' ability to put evidence-based research solutions into practice faster," said Ms. Christin Daniels, senior director of research and innovation at the Gillings School and NC TraCS research liaison for public health. "Dr. Taillie's project will allow her team to try out an innovative food store model aimed at reducing the purchase of sugar-sweetened beverages (SSBs) in Latino communities. SSBs are a major contributor to childhood obesity, which disproportionately affects Latino children."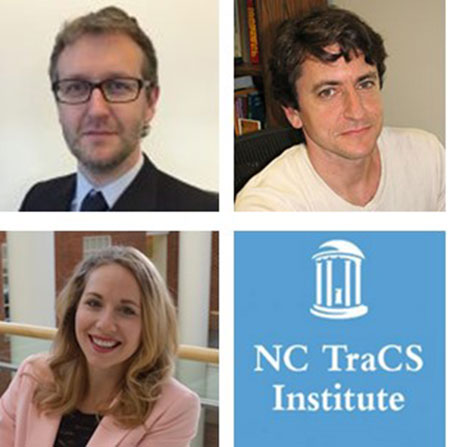 [Photo: Clockwise, from top left, are Drs. Ian Carroll, Jason Fine and Lindsey Smith Taillie.