Dr. Leslie Lytle, professor of health behavior and nutrition at the University of North Carolina Gillings School of Global Public Health, was inducted into the 'Hall of Fame' on May 3 by Purdue University's department of nutrition science.
The Hall of Fame Award honors nutrition science and Purdue alumni who have made significant contributions to the fields of food and nutrition and who have established a unique work and life trajectory.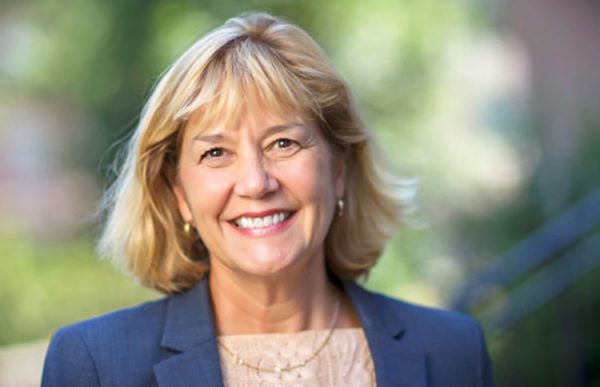 [Photo: Dr. Leslie Lytle]
Dr. Lytle earned a doctorate in health behavior and health education at the University of Michigan School of Public Health. She served on the University of Minnesota faculty from 1991 to 2012, after which she came to UNC as chair of the Gillings School's department of health behavior, a position she held until 2017.
Her research has focused upon the health promotion of youth and young adults, particularly on the prevention of obesity and promotion of healthful diet and physical activity through school, family and environmental approaches. She has served as principal investigator on several large National Institutes of Health (NIH) studies, including the Child and Adolescent Trial for Cardiovascular Health (CATCH), the Environmental Influences on Child Health Outcomes (ECHO) study, Choosing Healthy Options in College Environments and Settings (CHOICES) and Trial Activity for Adolescent Girls (TAAG), through the National Heart, Lung and Blood Institute (NHLBI); and Teens Eating for Energy and Nutrition at School (TEENS) and Identifying Determinants of Eating and Activity (IDEA), through the National Cancer Institute.
Her trials have provided much of the foundation for public health recommendations by the Institute of Medicine, now the National Academy of Medicine, for schools, communities and researchers. She chaired the steering committee for the Early Adult Reduction of Weight Through Lifestyle Intervention (EARLY) trials at NHLBI and has served on many expert panels for the NIH and the Centers for Disease Control and Prevention (CDC).
Dr. Lytle recently completed work with the NIH on the Accumulating Data to Optimally Predict Obesity Treatment (ADOPT) project, which uses an interdisciplinary framework to identify data collection tools for obesity researchers spanning biological, psychosocial, behavioral and environmental domains. She currently works with the National Collaborative on Childhood Obesity (NCCOR), which is sponsored by the NIH, the CDC, the Robert Wood Johnson Foundation and the U.S. Department of Agriculture to promote the use of common measures and methods across childhood obesity prevention and research initiatives.
She has published more than 240 articles in the peer-reviewed literature and has taught courses in theories of health behavior change, community nutrition interventions, and behavioral and social aspects of health.  She has been a prolific graduate mentor and in significant demand as an invited speaker for symposia, nationally and internationally.
"It was a real honor to be chosen for this award," Dr. Lytle said. "Other awardees include professors who inspired me during my training and researchers whose work I admire. I'm proud to be part of this group."
"Dr. Lytle was a natural choice for this Hall of Fame award," added Dr. Kurt Ribisl, professor and chair of health behavior at the Gillings School. "She deserves to be recognized for her ground-breaking work in the area of understanding healthy food environments and developing interventions to reduce youth obesity. We are proud to have her on our faculty."
While at Purdue to accept the award, Dr. Lytle also presented an invited talk, "The Dietary Guidelines and Health Behavior."