Like exposure to too much sun and drinking alcohol, obesity is a risk factor for cancer.
Researchers at the University of North Carolina Lineberger Comprehensive Cancer Center are working to be a part of the solution, aiming to find ways to reverse obesity-linked biological changes in the body that are associated with cancer growth.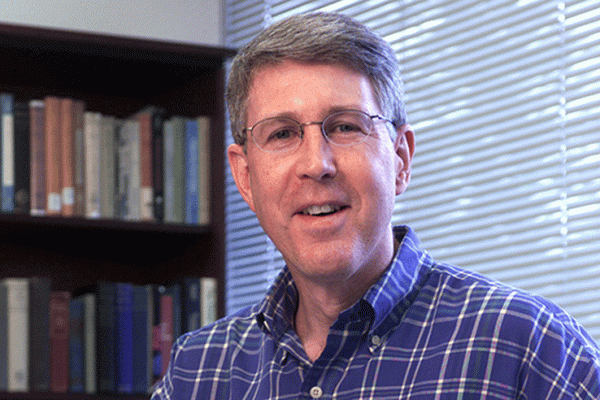 [Photo: Photo: Dr. Stephen Hursting]
"Our work has evolved from asking Is obesity increasing cancer risk? and What are the mechanisms linking obesity and cancer?," said Dr. Stephen Hursting, professor of nutrition at the University of North Carolina Gillings School of Global Public Health and member of the UNC Lineberger Comprehensive Cancer Center. "We have largely answered the first question and are still working on the second, but our focus really has turned to What are we going to do about it?."
In preliminary findings being presented April 14 – 18 at the American Association for Cancer Research's 2018 annual meeting in Chicago, researchers from Dr. Hursting's lab reported on a number of studies examining possible ways to reverse obesity-linked biological changes.
Overall, Dr. Hursting said, the researchers are finding the solution to the problem may be a bit more complicated than "weight gain increases cancer risk, so losing some weight is the way to fix it."
"We have identified several mechanisms, particularly epigenetic, metabolic and inflammatory changes within tissues, that are triggered by obesity but seem to be persistent, even after obesity is reversed," Dr. Hursting said. "That suggests we need to get smarter about how to break the obesity-cancer link."
Can weight loss reverse the pro-cancer effects of chronic obesity?

A preclinical study by Dr. Laura Bowers, postdoctoral research associate in Dr. Hursting's lab, evaluated growth of a type of aggressive breast cancer, known as basal-like breast cancer, in mice that were obese most of their lives, but then lost weight through one of four reduced-calorie diets, compared to mice that were never obese. The researchers found that returning the mice to a normal weight by way of a low-fat diet did not fully reverse the pro-cancer effects of chronic obesity. However, severe weight loss, accomplished by very low-calorie diets, did break the obesity-breast cancer link. (Learn more here.)
"We have shown previously that normalization of weight after chronic obesity doesn't fully reverse the pro-cancerous effects of obesity," Dr. Hursting said. "We've established that there are both inflammatory and epigenetic mechanisms underlying the persistent pro-cancer effects of obesity, even after successful weight normalization. We think the severity of the weight loss, and maybe the pace of weight loss, are important, as a more severe caloric restriction, accomplished by very low-calorie diets or bariatric surgery, have shown to fully reverse the inflammation, epigenetic alterations and cancer susceptibility that accompany chronic obesity."
What effect does cutting calories have on the molecular drivers of cancer?
In a study presented April 15, graduate student Ms. Laura Smith asked whether cutting calories would lower activation of signals known to play a role in HER2-positive breast cancer. The research team reported that in preclinical laboratory models of HER2-positive breast cancer, calorie restriction reduced activation of PI3K/Akt signaling.
A second preclinical study, by UNC undergraduate Ms. Magdalena Rainey, shows that restricting calorie consumption also could reduce activity of a protein called p21 in HER2-overexpressing breast cancer cells. In certain conditions, the protein can allow breast cancer cells to avoid growing uncontrollably, and avoid cell death. Researchers believe their findings support the theory that restricting calories can reverse the conditions that allow the protein to have a cancer-promoting effect.
Does disrupting how cells get energy help control pancreatic cancer growth?

"There are few established risk factors for pancreatic cancer, but obesity has emerged as an important one," Dr. Hursting said. We wanted to know if we could target energy metabolism to attack this problem." Ms. Jane Pearce, undergraduate biology major, studied whether pancreatic cancer is reduced in models that lacked a key protein regulating autophagy, a metabolic process that helps cancer cells survive under stress. They found that editing out the autophagy regulator ATG5 in pancreatic cancer cells resulted in "striking" changes in the metabolism of cells, and helped to reduce pancreatic adenocarcinoma cell growth. (Learn more here.)
In a second study, undergraduate Ms. Xuewen Chen looked at the impact of both restricting calories for pancreatic cancer tumors, and blocking autophagy.
"When cancer cells are starving, they often depend on autophagy to survive," Dr. Hursting said. "By reducing calories to slow growth, and then also blocking autophagy, they hoped to cut off the cells' fuel sources. They found that the growth-suppressive effects of calorie restriction were enhanced when they also blocked autophagy using a therapeutic compound."
Dr. Hursting said that better effects are evident when autophagy inhibition and some calorie restriction approaches are combined, as well as the use of drugs that inhibit insulin-like growth factor signaling.
"This combination approach of restricting nutrients and inhibiting autophagy is promising in terms of a metabolic one-two punch for suppressing cancer cell growth and survival," he said.