In 2015, more than 7 million children in the U.S. were referred to child protective services (CPS) agencies for alleged maltreatment. Given the prevalence of maltreatment and its association with adverse health outcomes throughout the life course, public health researchers want to better understand and predict those who are at risk for CPS intervention.
A new study by researchers at the University of North Carolina Gillings School of Global Public Health used novel data sources and methods to identify factors shortly before and during pregnancy that increase the likelihood of a child's future contact with CPS. This adds to the growing literature describing ways to predict and prevent the need for CPS intervention.
Ms. Anna E. Austin, doctoral student in maternal and child health, is lead author of the study, published online June 2 in the journal Child Abuse and Neglect.
Ms. Austin and colleagues used data from the Alaska Longitudinal Child Abuse and Neglect Linkage project, which brings together 2009-2011 Alaska Pregnancy Risk Assessment Monitoring System data with administrative data sources to identify child contact with CPS for alleged maltreatment, out-of-state emigration and death.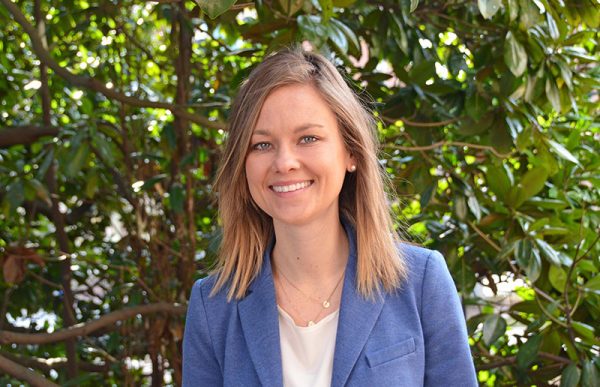 [Photo: Ms. Anna E. Austin]
Among the predictors for referral to CPS were socio-economic status, maternal smoking during pregnancy, unmarried status of the mother, urban residence, lower maternal education and maternal experience of intimate partner violence in the 12 months prior to childbirth.
Other significant predictors included the mother's having a greater number of living children and greater number of stressful life events in the previous year, younger maternal age at birth of child, and Alaska Native/American Indian race.
"Our results suggest that assessing for and addressing clinical, social and environmental indicators during the prenatal period may aid prevention efforts in mitigating family need for involvement with child protective services agencies," Ms. Austin said.
Co-authors of the article are Dr. Meghan Shanahan, assistant professor of maternal and child health at the Gillings School and researcher at the UNC Injury Prevention Research Center, and Dr. Jared Parrish, a 2015 Gillings School alumnus, now a senior epidemiologist with the Alaska Department of Health and Human Services.