Researchers at the University of North Carolina at Chapel Hill have reported in a new study that follow-through on the HPV vaccine – the percentage of those who complete the series within a year of receiving their first dose – has fallen dramatically. The drop is problematic, given that timely completion of the vaccine series protects those who are sexually active from a number of reproductive system cancers, notably cervical and anal cancers.
Led by Ms. Jennifer Spencer, health policy and management doctoral student at the UNC Gillings School of Global Public Health, the study findings were published online May 17 in the American Journal of Public Health.

The researchers analyzed data from insurance claims for more than 1.3 million privately insured individuals in the U.S., ages 9 to 26 years, who initiated the HPV vaccine series between 2006 and 2014.
The decrease in vaccination follow-through was especially dramatic in females (a drop from 67 percent in 2006 to 38 percent in 2014) but also noticeable for males (from 36 percent in 2011 to 33 percent in 2014).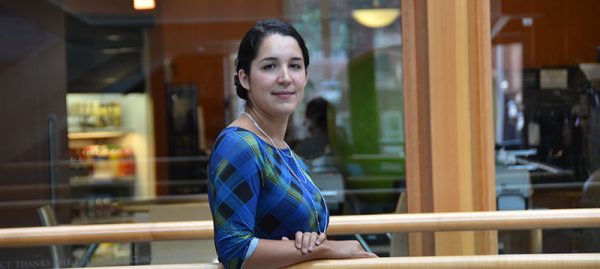 [Photo: Ms. Jennifer Spencer]

Ms. Spencer and colleagues also identified certain patient and provider characteristics that are associated with increased likelihood of completing the HPV vaccination series. Follow-through was highest among patients initiating HPV vaccine through an obstetrician/gynecologist and lowest among those initiating the series with a physician's assistant or nurse practitioner. Patients in HMO insurance plans also had lower follow-through than in other insurance plan types.
The authors emphasize the importance of timely follow-through on the series and encourage programs seeking to increase vaccinations to examine ways to target the full range of providers who deliver the vaccines.
"The HPV vaccine shows a lot of promise, but uptake has been really low," Ms. Spencer said. "We've focused a lot on ways to increase initiation of the vaccine, but this work really shows that's only part of the story. We need to make sure patients and providers understand the importance of completing the full series."
Co-authors from the UNC Gillings School are Dr. Justin Trogdon, associate professor, and Dr. Stephanie Wheeler, associate professor, both in the Department of Health Policy and Management, and Dr. Noel Brewer, professor of health behavior. Dr. Stacie Dusetzina, associate professor of health policy at Vanderbilt University, also is a co-author.
Read more: https://sph.unc.edu/sph-news/researchers-find-fewer-young-people-are-completing-the-hpv-vaccine-series-urge-better-compliance/