Studies have shown that women have greater difficulty in quitting smoking than do men, and a new study of mice by researchers at the University of North Carolina Gillings School of Global Public Health explores why that may be the case. The study suggests that nicotine has a different impact upon the relationship of the brain and gut in women.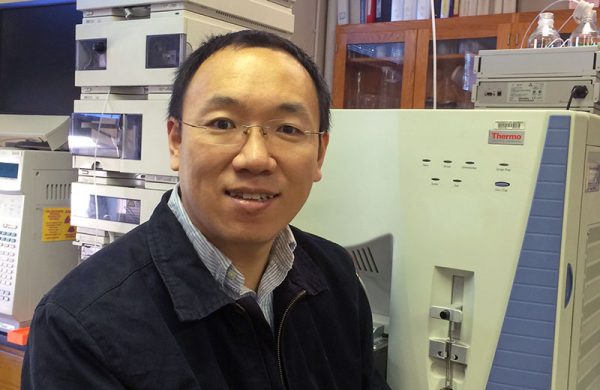 [Photo: Dr. Kun Lu]
Dr. Kun Lu, assistant professor of environmental sciences and engineering, is corresponding author of the article, published online Oct. 16 in Chemical Research in Toxicology. Mr. Liang Chi and Mr. Pengcheng Tu, doctoral students in environmental sciences and engineering at the Gillings School, are also co-authors.
Cigarette smoking, which is related to one out of every five deaths in the U.S., has long been a major public health issue. When a person smokes tobacco, nicotine is delivered primarily to the lungs. With skin patches and chewing tobacco, however, nicotine enters the skin or gastrointestinal tract.
Previous research has shown that nicotine and the nervous system interact, producing a number of effects, including the release of dopamine. Studies also have shown that the effects of nicotine are gender-dependent. To more fully understand why this is, Dr. Lu and colleagues wanted to explore how nicotine affects male and female gut microbiomes.
The researchers set up a 13-week experiment, during which they administered nicotine-infused water to mice. An analysis of the animals' fecal samples showed major differences in the composition of the microbiomes in male and female mice.
Levels of compounds and bacterial genes associated with the nervous system and body weight were altered in different ways in male and female mice. For example, the mice exposed to nicotine, especially the males, had lower concentrations of glycine, serine and aspartic acid, which could weaken the addictive effect of nicotine.
In addition, nicotine-treated female mice had reduced amounts of Christensenellaceae bacteria, while the treated male mice had increased levels, which are associated with a lower body mass index.
Our study shows strong sex-dependent effects of nicotine on the gut microbiome and its metabolic functions," Dr. Lu said. "The finding underscores potential important roles of gut microbiome responses in sex-specific disease susceptibility related to environmental factors, such as smoking and others."
The team reported that future efforts will focus on exploring the relationship of the nicotine-gut-brain interactions on a molecular level to further understand the communication paths involved.
Other co-authors of the study are from the University of Georgia at Athens and North Carolina State University (NCSU). Co-authors Mr. Ridwan Mahbub, Dr. Bei Gao and Dr. Xiaoming Bian are Dr. Lu's former colleagues at the University of Georgia; Drs. Gao and Bian were visiting students last year in Dr. Lu's UNC lab. Co-author Dr. Hongyu Ru is clinical assistant professor of biostatistics at NCSU.