Two students from the University of North Carolina Gillings School of Global Public Health were on the winning team for the inaugural UNC Kenan-Flagler Business School Healthcare Case Competition.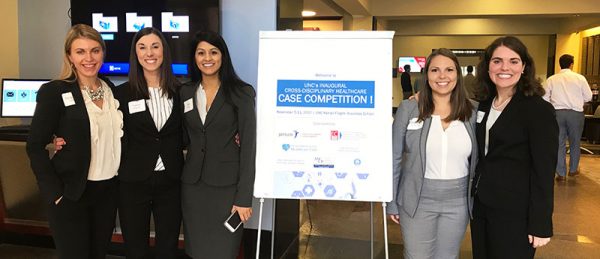 [Photo: Ms. Aditi Borde (third from left) and Ms. Chelsea Anderson (second from right) represented the Gillings School on an interdisciplinary case competition team.]
Ms. Aditi Borde and Ms. Chelsea Anderson, both first-year graduate students in the department of health policy and management at the Gillings School, entered the competition as part of a five-person, interdisciplinary team that included students from Kenan-Flagler and UNC's Eshelman School of Pharmacy.
"The best part was the interdisciplinary nature of the competition," Ms. Borde said. "It is not often that we have the opportunity to collaborate with students in our neighboring professional schools. The experience was exhilarating and rewarding."
Student teams were asked to tackle the current opioid crisis and, more specifically, reduce the number of deaths from overdose. Ms. Borde's and Ms. Anderson's team's solution was a more progressive one, which centered on targeted prevention and treatment in a select portion of the population that already has opioid drugs in-hand.
"We are incredibly proud of Chelsea and Aditi," said Dr. Morris Weinberger, chair of the health policy and management department. "Their performance is testimony to their ability to work across disciplines to develop innovative and practical solutions to real-world problems faced in health care today."
"This experience solidified that the key to success is collaboration between interdisciplinary teams," said Ms. Anderson. "I couldn't have asked to be paired with better individuals. Working with them was the true reward – taking home first place was just the cherry on top."