To mark the centennial of the 1918 influenza pandemic, the University of North Carolina Gillings School of Global Public Health held a symposium, Going Viral: Impact and Implications of the 1918 Influenza Pandemic, in Chapel Hill, NC, on April 4-6. School leaders looked back at the 1918 pandemic with a view to preventing another, creating an interdisciplinary event that brought together scholars from many fields, including literature, history, virology, epidemiology, medicine, communication and more.
The symposium began with an evening event at Wilson Special Collections Library, with music from the period and readings about the impact of the pandemic. The music and literature set the tone for the gravity of those terrifying months in 1918-1919.
Dr. Paula Eckard, associate professor of English at UNC-Charlotte, spoke about how Thomas Wolfe's writing was influenced by his brother Ben's gruesome death from influenza. Dr. Eckard is a Wolfe scholar and a nurse. Mr. Wolfe's Look Homeward, Angel includes a fictional brother who dies from flu, and the death scene is narrated in a startlingly clinical manner.
Mr. Howard Covington, Pulitzer Prize-winning journalist and historian, described UNC-Chapel Hill in 1918, including the lack of adequate sanitary conditions on campus.
On the second day, Dr. Howard Markel, George E. Wantz Distinguished Professor of History  the History of Medicine at the University of Michigan, told the story of the pandemic, while Dr. Jim Leloudis, professor of  history at UNC-Chapel Hill, focused on the impact in the South. Dr. Priscilla Wald, professor of English and Women's Studies at Duke University, spoke about the contagion narrative, and how it affects what people know and think about infectious diseases.
The New York Times science and medicine reporter Ms. Gina Kolata gave the keynote lecture, recounting stories from her best-selling book, Flu: The Story of the Great Influenza Pandemic of 1918 and the Search for the Virus that Caused It.
Top virologists, epidemiologists and veterinarians, including Drs. Ralph Baric, Adolfo Garcia-Sastre, Barney Graham, Fred Hayden, Yoshihiro Kawaoka and Barrett Slenning, addressed topics that included universal influenza vaccines, next-generation antivirals, and the interconnection between animal and human health.
Dr. Tom Frieden, former Centers for Disease Control and Prevention (CDC) director and now president of Resolve to Save Lives, participated via teleconference from India.
Dr. Martin Meltzer, of the Centers for Disease Control and Prevention, talked about the striking cost of pandemics.
Dr. John Brownstein, professor of biomedical informatics at Harvard Medical School, described how digital tools and citizen science are being used in pandemic surveillance, prevention and preparedness. His and several other talks are accessible online.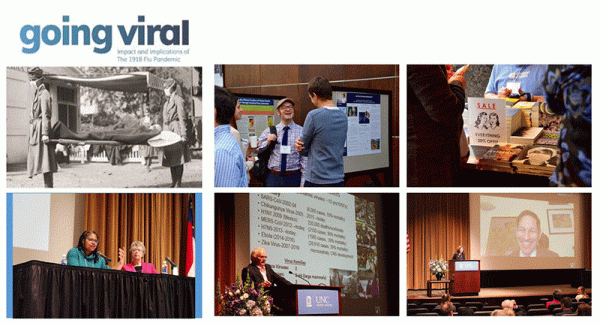 [Photos (clockwise, from top left): Red Cross nurses participate in a drill to transport flu patients; UNC students' poster presentations informed symposium participants about various aspects of infectious diseases; UNC student stores hosted a book sale, at which participants could browse or buy volumes including Thomas Wolfe's Look Homeward, Angel and Gina Kolata's Flu; Dr. Tom Frieden, former CDC director, joined the event by teleconference; Dr. Ralph Baric discussed what the next flu pandemic might look like; and Drs. Adriane Lentz-Smith, of Duke University and Sandra Crouse Quinn, of University of Maryland, spoke about minority populations.]
Discussions also focused on how to communicate about influenza and the ethics around pandemics. Many practical issues of readiness and response were covered, and a session was devoted to the flu's impact upon minority populations. Dr. Adriane Lentz-Smith, author of Freedom Struggles: African Americans and World War I, talked about the experience of black soldiers during and following WWI, and Dr. Sandra Crouse Quinn, professor and chair of family science at the University of Maryland School of Public Health, described why minority populations have less trust in vaccination – and what can be done about it.
Saturday, the Gillings School partnered with the NC Museum of Natural Sciences for a public-facing event focused on Going Viral. UNC faculty members gave mini-talks in the three-story Daily Planet theater, while students and others hosted exhibit tables.
The Gillings School's Dr. Joe Mosnier led students and faculty member Dr. Rohit Ramaswamy in a reading of poems from Ms. Ellen Bryant Voigt's, Kyrie, a collection of sonnets about the devastation and tragedy of the pandemic. Speaking through many narrators, Ms. Voigt evokes the great epidemic through the eyes and experience of various Americans – a soldier, his fiancée, orphaned children, a doctor and a host of grieving family members. The poet used as an epigraph words from Dr. Alfred Cosby's The Forgotten Pandemic: The Influenza of 1918:  "Nothing else – no infection, no war, no famine – has ever killed so many in as short a period."
As public health professionals, we must work to ensure that such a pandemic never happens again.
 The text above is an adaptation of the words of Dr. Barbara K. Rimer, who wrote about the symposium events in her weekly blog. You may read more here and here.
 Also enjoy the UNC Health Sciences Library's historic timeline of pandemic-related events.