A new partnership at UNC will leverage statewide collaboration to enhance infectious disease public health surveillance, research, policy and care in North Carolina.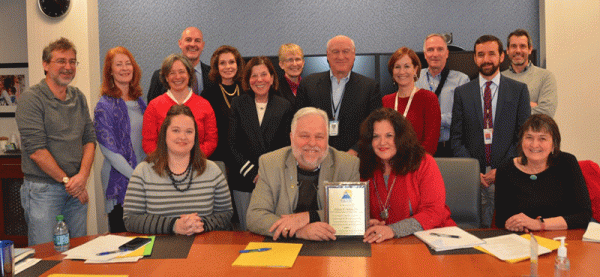 [Photo: Core partnership members include, from left, seated: Ms. Amy Bellflower Thomas (UNC), Dr. Andrew Olshan (UNC), Ms. Evelyn Foust (CDB) and Dr. Lorraine Alexander (UNC); from left, standing: Dr. Til Stürmer (UNC), Ms. Jacquelyn Clymore (CDB), Dr. Erika Samoff (CDB), Mr. Danny Staley (DPH), Dr. Leah Devlin (UNC), Dr. Barbara K. Rimer (UNC), Dr. Anne Hakenewerth (CDB), Dr. Myron Cohen (UNC), Dr. Heidi Swygard (UNC), Dr. Joe Eron (UNC), Mr. Zack Moore (Department of Health and Human Services) and Dr. Aaron Fleischauer (Department of Health and Human Services)]
United as the North Carolina Partnership for Excellence in Applied Epidemiology for Infectious Disease, partners include the North Carolina Division of Public Health's Communicable Disease Branch (DPH CDB) and multiple entities from the University of North Carolina at Chapel Hill: the Department of Epidemiology in the Gillings School of Global Public Health, the Gillings School's North Carolina Institute for Public Health, and UNC's Institute for Global Health and Infectious Diseases.
The mission of the newly created partnership is to develop an applied public health research, education and practice collaborative that will promote best practices for improving the health and well-being of North Carolinians and the global community. Priorities include formalizing an epidemiology-focused collaborative to enhance current efforts in disease prevention; creating professional development and networking opportunities for UNC-Chapel Hill students and Department of Public Health staff; and developing a strategic plan for collaborative research in North Carolina.
Through the partnership, epidemiology students at the UNC Gillings School will receive special training, including exposure to applied epidemiology and public health; access to data for use in practica, theses and dissertations; and opportunities to collaborate on research studies that will have real-world impact by directly informing state-level health policy. As these students gain an increased understanding of the role epidemiology plays in public health policy work, they will better support local applied public health surveillance and research.
Additionally, UNC-Chapel Hill and the DPH CDB plan to increase funding opportunities by applying jointly, improve research efficiency by sharing data and personnel for key projects, and bring staff and students together by offering training and educational opportunities in a shared space.
"I am quite enthusiastic about this partnership," said Dr. Andrew Olshan, Barbara Sorenson Hulka Distinguished Professor in Cancer Epidemiology at the Gillings School and a lead voice in the collaboration. "It builds on longstanding relationships between the groups involved. The real-world epidemiology research and practice opportunities for students, the ability to enhance epidemiologic training for DPH branch staff, and the platform for research provide a new level of synergy."
"The opportunity to harness solid commitment, new talent and new ideas through this collaborative energy is exciting," added Ms. Evelyn Foust, head of the Communicable Disease Branch. "This unique partnership will advance evidenced-based public health practice across infectious disease work and other related public health issues. Our shared goal is to protect the health of North Carolinians now and in the future and to share best practices with our global community. This active partnership underscores that we are stronger together in responding to public health threats, and we plan to seize every opportunity to keep North Carolina healthier."