Dr. R. Lorraine Collins, associate dean for research in the University at Buffalo School of Public Health and Health Professions, has been named to a working group created by New York Gov. Andrew M. Cuomo that will be tasked with drafting legislation on how to regulate marijuana use in New York State.
Dr. Collins is a psychologist with decades of experience in substance use and abuse research who has studied marijuana over the past 20 years. In 2016, she was named to a National Academies of Sciences, Engineering and Medicine ad hoc committee that reviewed the health effects of marijuana use. New York is among a growing number of states considering regulating marijuana for adult use.
"I am honored to be selected for the governor's working group and have an opportunity to use my background as a substance use and abuse researcher and public health practitioner to move New York State forward in the best possible way," said Dr. Collins.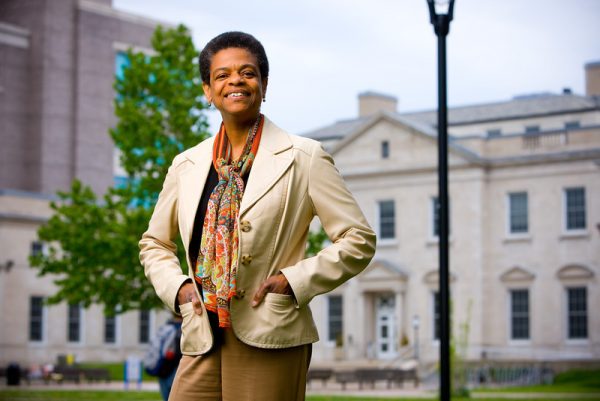 [Photo: Dr. R. Lorraine Collins]
"The group includes people who have a variety of backgrounds and I am looking forward to having substantive, candid and thoughtful conversations about how we can regulate cannabis in New York State," Dr. Collins said.
Mr. Cuomo on Thursday announced the 20-member working group, whose draft legislation will be presented to the state Legislature for consideration during the upcoming legislative session.
The workgroup was created based on the findings of a multi-agency study commissioned by the governor in January. The report was issued July 13 and concluded that the positive impacts of a regulated marijuana market in New York State outweigh the potential negative impacts, and that areas that may be a cause for concern can be mitigated with regulation and proper use of public education that is tailored to address key populations.
Moreover, the report found that a regulated program would reduce racial disparities in criminalization and incarceration rates and recommended sealing the criminal records of individuals with prior low-level marijuana-related offenses. The report also specifically recommended the creation of a workgroup of subject matter experts to make recommendations to the state.
The workgroup will need to consider a number of issues. "There are lots of complexities in regulating marijuana," Dr. Collins said. "What mode of product are you going to allow? What's the maximum amount that people can buy? Where can the dispensaries be located?" Other possible issues include product testing and packaging, legal purchasing age, and guidelines around how much cannabidiol (CBD) and tetrahydrocannabinol (THC) can be present in the product sold.
"There are some benefits of marijuana that have been identified, particularly around certain medicinal products," Dr. Collins said. "It's important that people understand the complexity of the cannabis plant. "A lot of people focus on the psychoactive ingredient which is THC, but we also know that there are medicinal properties of CBD, which is another important component of the cannabis plant. We're talking about a plant that has multiple cannabinoids and we don't know a whole lot about them and what they can and cannot do."