A University at Buffalo PhD candidate received an F31 Research Fellowship award from the National Institute of Diabetes and Digestive and Kidney Diseases/National Institutes of Health (NIH) for a project related to obesity in adults.
The $96,690 NIH award will fund Ms. Amanda Crandall's graduate work for three years. Ms. Crandall is a doctoral candidate in the department of community health and health behavior in the University at Buffalo School of Public Health and Health Professions.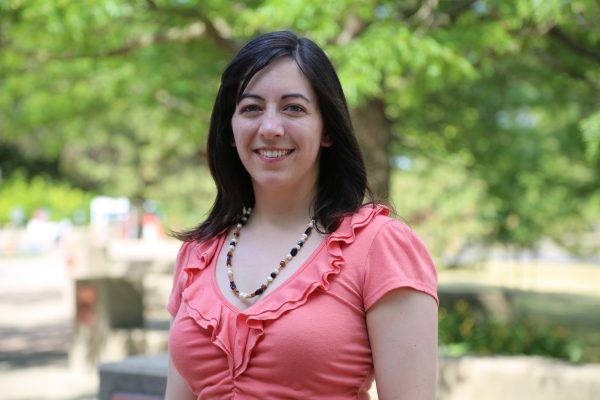 [Photo: Ms. Amanda Crandall]
Ms. Crandall's project is titled "An investigation of the effects of food scarcity on reinforcement pathology among parents and offspring."
"We're hoping to learn about the mechanisms behind the relationship between childhood poverty and adult obesity," says Ms. Crandall, who received her bachelor's degrees in nutrition and psychology from Indiana University of Pennsylvania.
"Based on previous work in this area we suspect that experiences of poverty in childhood may raise one's risk for food reinforcement pathology," Ms. Crandall adds. "To test this, we're going to bring children and adolescents, along with their parents, into our laboratory and look at their reactions to financial gains and losses in terms of food motivation."
Reinforcement pathology originates from the drug abuse literature and is the intersection of high reinforcement by a particular substance — in this case it will be food — and high impulsivity. "Those who are high in both of these traits are at a very high risk for obesity," Ms. Crandall explains. "This project aims to connect the concepts of reinforcement pathology and the developmental effects of scares resources."
Ms. Crandall's faculty co-sponsors on the project are Dr. Jennifer Temple, associate professor of exercise and nutrition sciences and director of the Nutrition and Health Research Laboratory, both at UB's School of Public Health and Health Professions, and Dr. Leonard Epstein, SUNY Distinguished Professor and chief of the division of behavioral medicine in the Jacobs School of Medicine and Biomedical Sciences at UB.
"Their support, as well as that of the whole department of community health and health behavior, is sure to make this project a great success," Ms. Crandall says.