A University at Buffalo researcher who studies health outcomes among members of the military has received a $2.7 million grant from the National Institutes of Health to continue the research project.
Dr. Gregory Homish, associate chair and associate professor of community health and health behavior in University at Buffalo's School of Public Health and Health Professions, received the award through National Institutes of Health's National Institute on Drug Abuse (NIDA). The funding runs through 2023. Combined with a previous $2.3 million NIH grant for the ongoing study, Dr. Homish has now received $5 million for the project.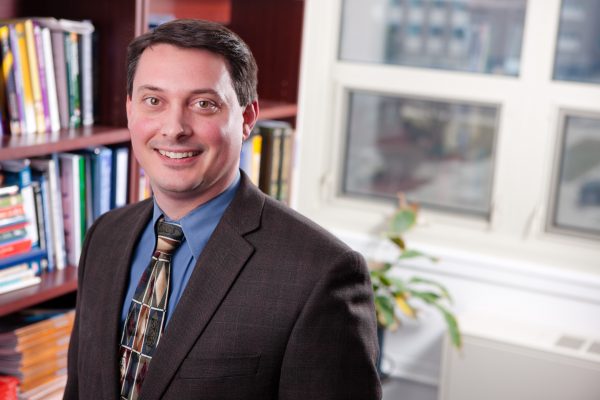 [Photo: Dr. Gregory Homish]
"This renewal will allow us to examine two highly prevalent, yet understudied, experiences: soldiers who have never deployed and those who are separating from the military," said Dr. Homish. "We will examine, over time, how these two factors impact changes in health for soldiers and their spouses."
Dr. Homish's collaborators on the NIH grant include Dr. Kenneth Leonard, director of UB's Clinical and Research Institute on Addictions, and Dr. Bonnie Vest, research assistant professor of family medicine in the Jacobs School of Medicine and Biomedical Sciences at UB.
Substance abuse is one of the most common health problems among military personnel and tends to be even higher among reservists compared to active duty, researchers say.  While research on the military has focused largely on the effects of deployment and combat, a significant proportion of reserve soldiers are never deployed.
Deployment is an important part of what's known as "soldier identity." As a result, non-deployment may contribute to feelings of guilt and decreased connectedness with one's unit, which, in turn, can increase risk for negative outcomes.
Dr. Homish's recent research on this topic includes a study published in October showing that U.S. Army Reserve and National Guard soldiers who experience greater feelings of guilt and other negative emotions about never having been deployed are more likely to misuse alcohol.
Separation from the military can also be stressful for service members and their spouses, and may contribute to increased substance use. Dr. Homish and his colleagues have found evidence that former service members, compared to current service members, have higher rates of substance use and dependence.
"We are excited to be funded for an additional five years to investigate how social and environmental factors impact the health of soldiers and their spouses over time," Dr. Homish said. "The information obtained from this study can be used to better inform prevention and intervention programs aimed at improving health outcomes for our military service members and their families."