University at Buffalo researchers played a role as part of an expert panel in the development of new guidelines released in January for managing fatigue in emergency medical services (EMS) personnel. Dr. John Violanti, a former New York State Police trooper who studies police stress and fatigue among public safety workers, helped draft the guidelines along with researchers from the University of Pittsburgh Medical Center headed by Dr. P. Daniel Patterson.  The study was funded by the U.S. Department of Transportation, National Highway Traffic Safety Administration.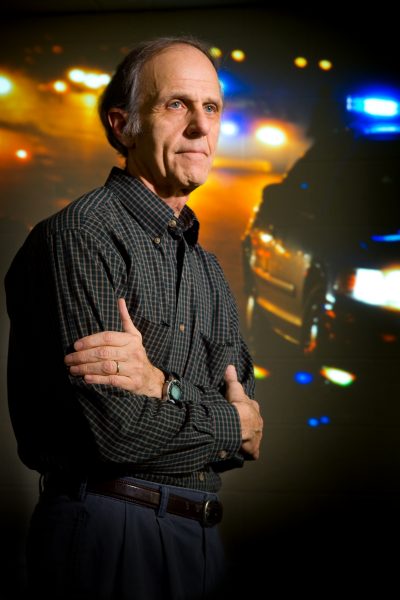 [Photo: Dr. John Violanti]
Dr. Violanti, a research professor of epidemiology and environmental health in the University at Buffalo School of Public Health, is a co-author on the paper, "Evidence-based guidelines for fatigue risk management in Emergency Medical Services," published in a special issue of the journal Prehospital Emergency Care.
The problem of overly tired EMS workers is widespread, and it's problematic for a variety of reasons. EMS personnel who are fatigued are more likely to get injured on the job and make mistakes when caring for patients, researchers say. EMS organization managers aren't properly equipped to address workplace fatigue, in part because until now there haven't been any guidelines for managing fatigue risk in the EMS setting, according to researchers.
Based on a review of evidence published between 1980 and 2016, the expert panel created five recommendations for fatigue risk management in EMS operations. Their guidelines range from the obvious — that EMS personnel should work shifts shorter than 24 hours in duration — to the more novel, such as allowing EMS workers to nap while on duty to mitigate fatigue.
In addition, the panel recommended using fatigue/sleepiness survey instruments to measure and monitor fatigue in EMS workers. They also suggest that emergency responders have access to caffeine to combat fatigue.
The guidelines also recommended training and education in mitigating fatigue and fatigue-related risks. For example, education in sleep health may help EMS workers identify undiagnosed sleep disorders, such as obstructive sleep apnea, which can affect their performance while on duty. Back-to-back shifts and overtime are common. In addition, research shows that half of EMS clinicians report mental and physical fatigue while at work, as well as poor sleep quality, according to Dr. Violanti.
"It can be dangerous when they are transporting persons to medical care facilities while they are too tired to drive," says Dr. Violanti. "Additionally, their own physical health is at risk if they are not getting the proper sleep. We know that poor sleep and shift work are associated with heart disease and diabetes, for example."
In addition to his most recent research on EMS responders, Dr. Violanti has been involved in the design, implementation, and analysis of police stress and health studies during his entire career. He has authored over 120 peer-reviewed articles on police stress and PTSD, police mortality, suicide, and cardiovascular health. He has also written and edited eighteen books on topics of police stress and health, psychological trauma, and suicide. He has lectured nationally and internationally at academic institutions and police agencies on matters of suicide, stress and trauma at work.