A University at Buffalo epidemiologist is among the contributors to a study showing that improving water, sanitation and hygiene in poor regions of Bangladesh helped overall health, but contrary to expectations, did not improve children's growth and development. Despite mounting research over the past decade linking poor sanitation to stunted growth in children, the study found that children born into housing compounds with improvements in drinking water quality, sanitation and handwashing infrastructure were not measurably taller after two years compared to those born into compounds with more contamination. But, children who received the interventions were significantly healthier overall.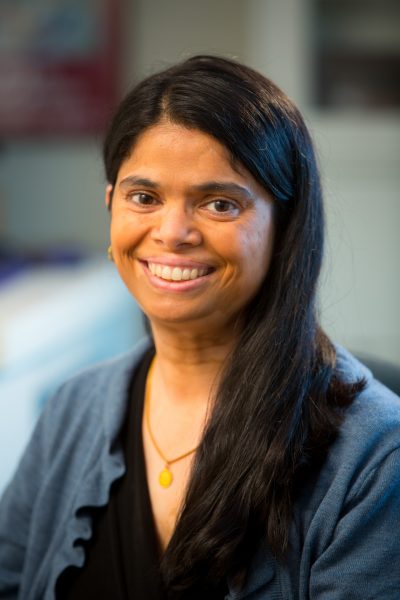 [Photo: Dr. Pavani Ram]
Dr. Pavani Ram, associate professor of epidemiology and environmental health in University at Buffalo School of Public Health and Health Professions, is a co-author on the study, published in January in The Lancet Global Health.  The WASH Benefits Bangladesh trial, led by epidemiologist Dr. Stephen Luby of Stanford, is one of the first to examine what are known as water, sanitation and hygiene (WASH) interventions as a way of improving children's growth in low-income communities. How well a child grows in the first year can indicate overall well-being and is linked to both survival and brain development. These WASH interventions have been proposed as a way of improving child growth and are being implemented in many communities around the world, but haven't been rigorously tested.
Children in the Bangladesh trial who received nutritional supplements in addition to WASH interventions did grow taller and were less likely to die during the study, but WASH interventions alone did not improve growth.
The study examined the health and growth of children from more than 5,000 pregnant women in rural Bangladesh after two years. The mothers were grouped according to geographic clusters and randomly assigned to one of six interventions or a control group. The six interventions included integration of chlorinated drinking water; upgraded sanitation facilities; promotion of handwashing; a combination of chlorinated drinking water, upgraded sanitation and handwashing promotion (WASH) efforts; nutritional supplements; or WASH and nutritional supplements.
After two years, nearly all the interventions reduced diarrhea. Although expected, the result is important because it suggests that families did adhere to the interventions. It also creates hope that WASH interventions could beat back one of the greatest killers of children globally — the World Health Organization estimates 361,000 children under 5 years of age die as a result of diarrhea each year.
Of all the interventions, providing nutritional supplements in addition to combined water, sanitation and handwashing interventions had the greatest effect on curbing mortality, in addition to improving growth. Children receiving this intervention were 38 percent less likely to die compared to children in the control group.
Past research has shown that WASH strategies are effective at reducing diarrhea and improving child health, Dr. Luby says, but evidence of the impact of these strategies on child growth and development has been sparse.
Co-authors of the publication include scientists from the International Centre for Diarrhoeal Disease Research, Dhaka, Bangladesh; the University of California, Berkeley; the Johns Hopkins Bloomberg School of Public Health; the University of California, Davis; and Emory University. The research was supported by the Bill & Melinda Gates Foundation.