University at Buffalo School of Public Health and Health Professions student, Ms. Rachel Hoopsick, was a poster winner at the 2018 American Public Health Association (APHA) Annual Meeting and Expo.
Ms. Hoopsick is a PhD student in the department of community health and health behavior at UB. Her poster, "Effects of Problems with Social Acceptance and Social Victimization on Nonmedical Use of Prescription Drugs and Illicit Drug Use among Reserve/Guard Soldiers," was one of only two to receive the prestigious award in the Alcohol, Tobacco, and Other Drugs (ATOD) section of the APHA Annual Meeting and Expo.  She was honored with a plaque at the APHA ATOD reception on Tuesday, November 13.
Ms. Hoopsick completed a MS program in epidemiology at UB in 2012 and later enrolled in the department's MPH in health services administration program to prepare her for translating epidemiological research into public health practice.  Since graduating with her MPH, she joined UB's Primary Care Research Institute as a research associate/practice facilitator. She also became a Certified Health Education Specialist (CHES), and is teaching undergraduate courses at two local colleges.
She is currently working as a graduate research assistant with Operation: SAFETY (Soldiers and Families Excelling Through the Years), a NIH/NIDA funded ongoing study examining the health and wellness of US Army Reserve/National Guard soldiers and their partners. Her research interests are on substance use and mental health outcomes.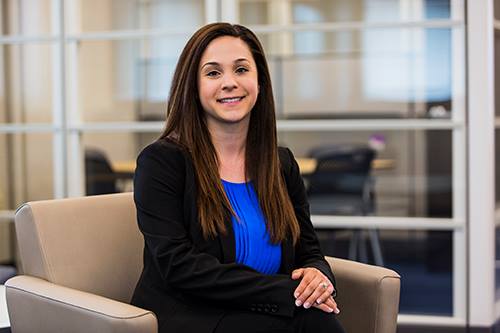 [Photo: Ms. Rachel Hoopsick]