Communities across the United States are turning to mobile produce markets as a way to bring fresh, healthy food choices to underserved neighborhoods. But, are these veggie vans actually changing the way people eat? The National Cancer Institute, is funding the $3.1 million study led by researchers at the University at Buffalo aims to find out.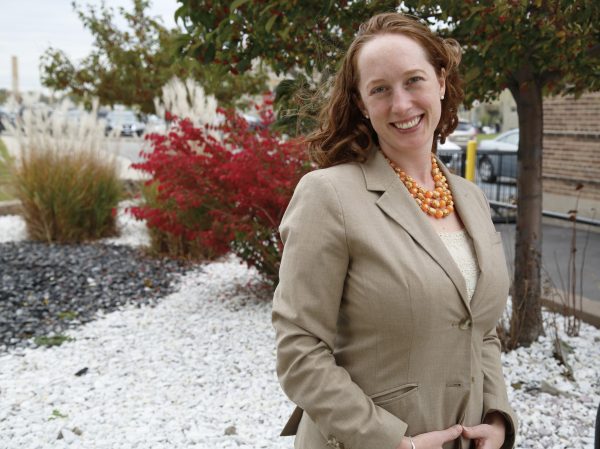 [Photo: Dr. Lucia Leone]
"Mobile produce markets are becoming a popular way to bring food access to communities. But each one is run differently and we don't know if they're having an impact," said Dr. Lucia Leone, the study's lead researcher and an assistant professor of community health and health behavior in University at Buffalo School of Public Health and Health Professions. "Access to high-quality, healthy foods is a real challenge for far too many," said Rep. Brian Higgins, D-Buffalo, who announced the project on Thursday. "This project, which aims to reach people where they are, will help to drive successful outcomes in the advancement of healthier communities."
This new study builds off a smaller project Dr. Leone conducted with colleagues from the University of North Carolina at Chapel Hill, where she was a postdoctoral fellow and faculty member before joining the faculty at UB. The team recently published a paper in the International Journal of Behavioral Nutrition and Physical Activity showing that mobile markets can help improve fruit and vegetable intake in lower-income communities. It's the first published report of a randomized controlled trial for a mobile market. That study followed 142 participants in four counties in North Carolina.
This new funding will allow Dr. Leone and her team to expand their work by helping organizations across the Northeast and Southeast start mobile markets using the Veggie Van model. They hope to work with at least one organization in the Buffalo area to start a new mobile market program or expand the reach of a current program. "We want to test this program more widely to determine if the effects we saw in North Carolina can be replicated," Dr. Leone says.
Through a request for proposal process, an advisory committee will select between six and eight organizations that will receive small grants to use toward either starting a veggie van or operating their existing one. The money will help the organizations implement a best-practices toolkit to run their mobile markets more effectively, and in a financially sustainable way. "That was a big challenge with our own veggie van program in North Carolina," Dr. Leone said. "It's difficult to provide high-quality produce at reduced costs in a financially viable way."
Another challenge mobile produce markets face is tracking purchases to gain a better understanding of which fruits and vegetables people are buying. "Supermarkets can track everything you've purchased if you use your loyalty card. They can see how purchasing is changing based on what they are doing. We'd like to do something similar with this program," Dr. Leone said.
Toward that end, each mobile produce market selected will have access to purchase tracking software developed by the Arcadia Center for Sustainable Food & Agriculture, a nonprofit based in Alexandria, Virginia. The software will allow researchers to access anonymous purchasing data from any mobile produce market that uses the tool, which will help identify national trends. Researchers will also use an instrument, called the Veggie Meter, which measures skin carotenoids, an objective method for determining whether someone has increased their fruit and vegetable intake as a result of having access to a mobile produce market.
Dr. Leone's collaborators on the project include Dr. Samina Raja, an international expert on sustainable food systems and healthy communities who directs the Food Systems Planning and Healthy Communities Lab in UB's School of Architecture and Planning, and Dr. Laurene Tumiel Berhalter, director of community translational research in the Jacobs School of Medicine and Biomedical Sciences at UB, as well as researchers at UNC's Center for Health Promotion and Disease Control and Kenan-Flagler Business School.