Dr. Wael ElRayes, instructor in the University of Nebraska Medical Center College of Public Health and project manager for the Global Center for Health Security, was recently appointed the Fulbright Scholar liaison for UNMC.
"The Fulbright awards are among the most widely recognized and prestigious scholarships in the world," Dr. ElRayes said. "We want to expand Fulbright activities so faculty members and professionals who are interested can conduct international research or teach. Scholarships range from two weeks to two years in length."
The Fulbright Program was established in 1946 under legislation introduced by former Senator J. William Fulbright of Arkansas and is sponsored by the U.S. Department of State's Bureau of Educational and Cultural Affairs. The program awards approximately 8,000 grants annually. Roughly 1,600 U.S. students, 4,000 foreign students, 1,200 U.S. scholars, and 900 visiting scholars receive awards, in addition to several hundred teachers and professionals.
The program is vast and comprehensive — for students, to postdoctoral students, and seasoned faculty — and is open to U.S. or foreign citizens.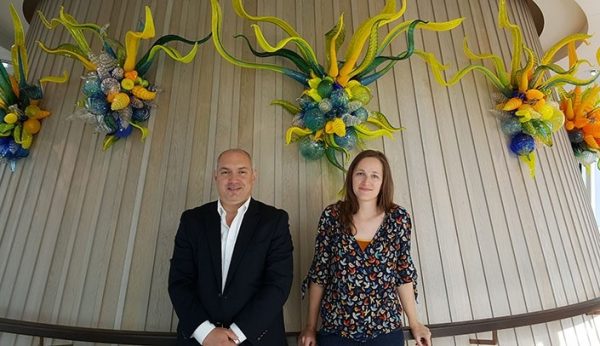 [Photo: Dr. Wael ElRayes (left), Fulbright Scholar Liaison for UNMC ]