Rates of sexually transmitted infections (STIs) in the United States, including chlamydia and gonorrhea, are at an all-time high. Youths aged 15-24 have greater prevalence of chlamydia and gonorrhea than other age groups. One effective and relatively straightforward and inexpensive strategy for reducing chlamydia and gonorrhea is routine STI testing for sexually active individuals. Accordingly, the Women's Fund of Omaha (WFO), a non-profit organization located in Omaha, Nebraska, developed the Adolescent Health Project (AHP) with the goal of reducing rates of chlamydia and gonorrhea among teens and young adults aged 15-24. Phase 1 of the AHP was launched January 2015 and included a media campaign targeted to teens and young adults. Phase 2 of the AHP was launched September 2015 and focused on increasing the supply of free STI testing and treatment. Dr. Melissa Tibbits and colleagues provide an evaluation of AHP published in the June issue of the American Journal of Public Health. The purpose of their project was to examine the impact of Phases 1 and 2 of the AHP on STI testing.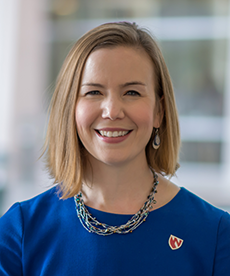 [Photo: Dr. Melissa Tibbits]
Dr. Tibbits, is an associate professor in the department of health promotion at the University of Nebraska Medical Center College of Public Health and specializes in consulting with communities to develop, implement, and evaluate initiatives that (a) address the underlying causes of poor health outcomes in adolescence.
A total of 67,661 STI tests were performed in the period of observation. Dr. Tibbits' team employed interrupted time series analysis and "found that the media campaign delivered in Phase 1 had no immediate effect on the number of STI tests or on the monthly rate of change in the number of STI tests. The expanded free STI testing and treatment services implemented in Phase 2, however, resulted in an immediate positive increase in STI tests that was sustained over time."
Dr. Tibbits and colleagues conclude: "increasing the availability of and demand for STI testing and treatment is an important step in reducing STIs in the United States. Our results suggest that providing free STI testing and treatment in combination with education offered through media campaigns and outreach has the potential to increase testing among young people and adults."