Dr. Rafia Rasu has accepted a position as a tenured full professor in the department of pharmacotherapy in the College of Pharmacy at the University of North Texas Health Science Center, with a joint appointment as a professor at University of North Texas School of Public Health. Dr. Rasu earned her PhD in health economics from The University of Texas Health Science Center at Houston (UTHealth) School of Public Health in 2005.
Dr. J. Michael Swint, who was Dr. Rasu's advisor during her time at UTHealth School of Public Health, says, "Given her outstanding performance in our PhD program, I am not at all surprised by Dr. Rasu's success. I expect her excellent career trajectory to continue."
Dr. Rasu specializes in pharmacoepidemiology, outcomes research and health economic evaluations. Before completing her PhD, she earned BPharm and MPharm degrees from the University of Dhaka, Bangladesh, followed by an MBA from the same institution.
She began her academic career as an assistant professor at the University of Missouri School of Pharmacy in 2005 and taught Health Economics and Medicine. While at UM, she held joint faculty appointments the Bloch School of Management as an executive member of the school's Interdisciplinary PhD Program, and in the School of Nursing. She received tenure and promotion to associate professor in 2011 at UM.
In 2014, Dr. Rasu joined the University of Kansas (KU) as a tenured associate professor of pharmacy practice. She taught pharmacoepidemiology in the Department of Preventive Medicine and Public Health at KU. Rafia also served as director of the Kansas City Antibiotic Resistance Task Force (KART).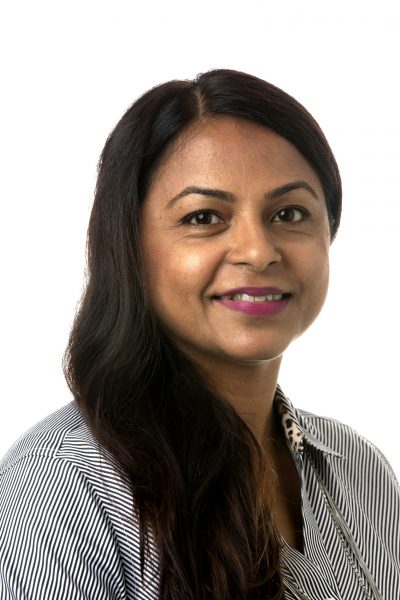 [Photo: Dr. Rafia Rasu]
Dr. Rasu has received federal and other national-level funding for research and her work has included analyzing national-level datasets to evaluate prescription trends, medication exposure, effectiveness, and identifying ways to improve care. These multidisciplinary research projects have generated many peer-reviewed publications. Recently, The New York Times and other newspapers have cited and recognized her publications. She received the Apple Polisher Award for Teaching from UM, and in 2017 she earned the Health Literacy Trail Blazer Award from Kansas Public Health Association.