Commercial salmon fishermen in Alaska suffer from hearing loss at more than five times the national rate, suggests a new study led by the University of Washington School of Public Health.
The study, published April 12 in the Journal of Agromedicine, surveyed and assessed a group of gillnet fishermen along Alaska's Copper River, who catch and sell what some call the world's finest salmon.
About 80 percent of fishermen who completed a physical exam had hearing loss, compared with the 15 percent norm for Americans. They also had significantly higher rates of upper extremity injuries, such as carpal tunnel and tendonitis, and were at increased risk for sleep apnea.
As the commercial fishing fleet ages, these chronic health risks and others common to the general population, such as obesity and cardiovascular disease, may become increasingly important to the health of the workforce, according to the study. Dr. Debra Cherry, an adjunct associate professor of environmental and occupational health sciences at the UW, was the study's senior author.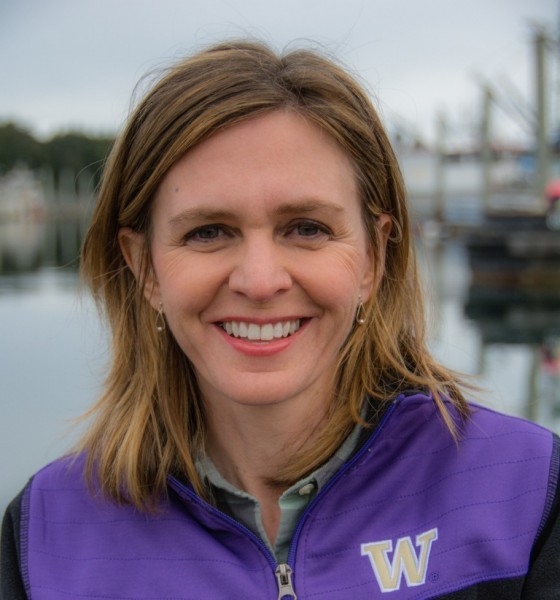 [Photo: Dr. Debra Cherry]
The start of salmon fishing season on Alaska's famed Copper River is met every May with fanfare from folks in the Pacific Northwest. The wild salmon is prized for its high fat content and rich flavor.
Researchers surveyed fishermen before and halfway through the 2015 fishing season, which generally lasts four months until mid-September. They answered questions about medical and work history, sleep habits, alcohol and tobacco use, mental health, physical fitness and noise exposure. Some fishermen also underwent physical exams, where their hearing and aerobic fitness were tested. Participants were asked to wear a FitBit device to track their steps and sleep habits.
Nearly 80 percent of the fishermen considered themselves healthy and had evidence of above-average fitness before fishing season began. Compared to the general Alaskan population, study participants reported less tobacco use, more regular doctors' visits for health maintenance and higher rates of health insurance.
Seventy percent of fishermen in the study were overweight or obese, and participants reported less aerobic exercise during the fishing season. This was due to cramped settings on fishing vessels, which were usually 28 to 34 feet in length. Fishermen also reported busy work schedules and excessive fatigue. Fishing periods usually lasted 24 to 48 hours, with little chance of sleep and unpredictable bursts of heavy activity. Depending on the catch, it could take several hours to pick and store individual fish.
Researchers also found evidence of upper extremity disorders in 70 percent of physical exam participants, including 40 percent with rotator cuff tendonitis (where the national norm is 8-14 percent). The potentially high prevalence of obstructive sleep apnea is also concerning, say the authors. Less sleep combined with poor quality sleep may exacerbate fatigue during the fishing season.
Most fishermen in the study were white, male, married and high school graduates. On average, they were 49 years old with 27 years of commercial fishing experience.
The study's first author, Dr. Carly Eckert, works in the department of environmental and occupational health sciences and is a doctoral student in the department of epidemiology at the UW. Dr. Eckert is also medical director of KenSci in Seattle. Co-author Ms. Torie Baker is from Alaska Sea Grant.