People in rural areas who use walking trails are more likely to meet minimum recommendations for physical activity, according to a study from the Brown School at Washington University in St. Louis.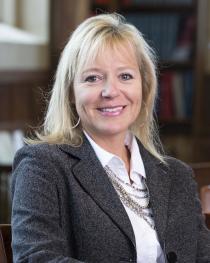 [Photo: Dr. Amy Eyler]
Researchers conducted telephone surveys of 524 residents of rural southeast Missouri in 2015. Forty percent reported walking and meeting the U.S. recommendation of 150 minutes of moderate-level exercise each week; 29 percent reported walking but not meeting the recommendation.
The latter group is especially worthy of targeting for improvement, wrote co-authors Dr. Amy Eyler, associate professor at the Brown School, and Dr. Thomas Park, of the Washington University School of Medicine. They suggested that residents' values and interests, also identified in the survey, could be used to find ways to encourage more walking.
"This survey highlighted a nearly threefold increase in physical activity for residents who use trails," they wrote. "Interventions to increase the utilization of existing trails have the potential to increase physical activity and positively impact population cardiovascular disease risk."
The study was published in the August issue of the Journal of Environmental and Public Health. The survey led to a $2.9 million grant from the National Institutes of Health/National Cancer Institute to the Brown School's Prevention Research Center, of which Dr. Eyler is the deputy director. The five-year project is aimed at promoting physical activity in rural communities, which have less physical activity and greater risk for cancer and other chronic diseases.