Three West Virginia University School of Public Health students have joined have joined nine others from top institutions to work with leading organizations on current public health issues affecting our communities.
The students are participating in the new Future Health Leaders (FHL) Pilot Program offered by the Milken Institute Lynda and Stewart Resnick Center of Public Health, a non-profit, non-partisan think tank dedicated to finding solutions to complex public health challenges.
During the program, students will network with and learn from health and business leaders around the world and share exciting research, grants and projects from their schools. They also will partner with national organizations to evaluate community impact projects and develop evidence-based recommendations.
WVU School of Public Health undergraduate students Ms. Ksheeraja Sriram, of Morgantown, and Ms. Carly Jansure, of Harpers Ferry, and Master of Public Health candidate Ms. Kathleen Cranmer, of Aliquippa, Pennsylvania, will represent WVU in the program.
"I am looking forward to learning from professionals from diverse fields and sectors who are all working to improve the health of the public," Ms. Sriram said. "I'm excited for the opportunity to apply what I've learned over the past two years in the WVU Public Health program to real-world public health challenges that are relevant today, including both mental health and the opioid epidemic."
Ms. Jansure says she's looking forward to the program's networking opportunities.
"This is an amazing opportunity to gain experience I can use for future careers, given my interest in health education and promotion," Ms. Jansure said. "I am excited to learn more about effective research practices and how to properly network with other valuable resources in the health realm."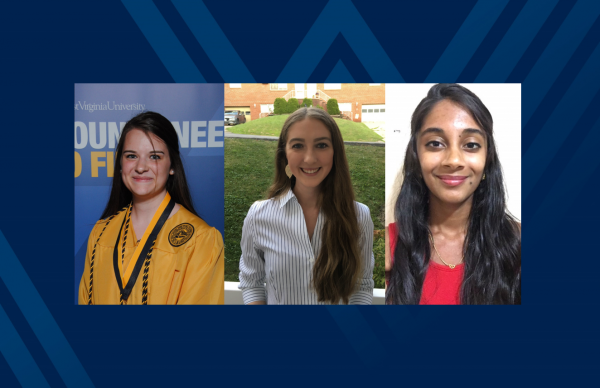 [Photo: (left to right) FHL students – Ms. Kathleen Cranmer, Ms. Carly Jansure, and Ms. Ksheeraja Sriram]
The Future Health Leaders Pilot Program was developed by the Milken Institute Lynda and Stewart Resnick Center of Public Health, which is dedicated to improving health and developing a culture of prosperity for individuals and communities. Areas of emphasis include chronic disease prevention and treatment, health emergencies and preparedness, mental health and wellness, and food, nutrition and physical activity.
The Future Health Leaders Pilot Program's mission is to uncover and develop the skillsets students need to successfully tackle public health issues and to provide practical, hands-on experience to broaden their cross-functional abilities. During the pilot year of this program, the Milken Institute is working with the schools, administrators, and students to incorporate feedback and fine-tune the details of the program.