It is National Diabetes Awareness Month, and West Virginia School of Public Health student Mr. Raihan Khan is doing his part to help combat this chronic h            ealth issue.
At a recent national conference hosted by the American Public Health Association (APHA), Mr. Khan, a public health sciences PhD candidate, presented research assessing the impact of diabetes self-management programs.
The project explored changes in diabetes distress among patients with Type 2 diabetes mellitus who participated in the Diabetes and Hypertension Self-Management Program (DHSMP). The intervention is a 12-week evidence-based program focused on educating and encouraging positive behavior changes to improve the lives of those living with diabetes and hypertension.
The program includes a series of classes about nutrition, stress management and exercise; data collection about diabetes distress and clinical values of participants' glucose, cholesterol and more. After the 12-week session, the participants' data is analyzed to determine the effects of the behavior change on their health.
While at the APHA conference, Mr. Khan's research poster was recognized by the Delta Omega Honorary Society in Public Health. The poster was elected to be presented at the conference by the Gamma Mu Chapter of Delta Omega of West Virginia University. Mr. Khan is also the co-secretary of the leadership team of WVU's Gamma Mu Chapter of Delta Omega.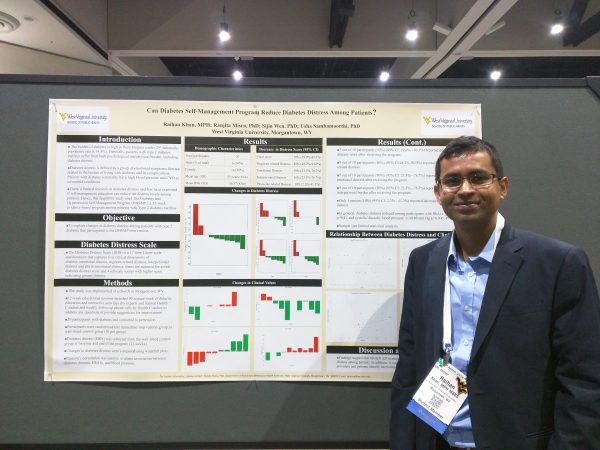 [Photo: Mr. Raihan Khan]
"This award and recognition encourages young researchers like me to work with dedication to help people suffering from chronic disease," Mr. Khan said. "I'm grateful to co-authors of the poster, my peers in the Gamma Mu Chapter of Delta Omega, the chapter's adviser, Dr. Elizabeth Claydon, and my department chair, Dr. Keith Zullig, for their support and encouragement."
Dr. Ranjita Misra of the WVU School of Public Health and Dr. Usha Sambamoorthi of the School of Pharmacy are the head researchers on the DHSMP.  Co-authors of the poster include Khan, Misra, Sambamoorthi and Dr. Sijin Wen of the School of Public Health.